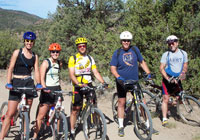 Come discover Reno / Lake Tahoe and Nevada with the outdoors experts, Sierra Adventures – your "one stop" outfitting source for equipment, rentals, recreation, information, transportation and guide services. Sierra Adventures is the region's first and only multi-sport outfitter. We offer free hotel pick-up in the Reno area.
We feature activities, outbound tours, clinics and rentals for every season – Earth, Wind, Water, Snow.
OUR OUTFITTING SERVICES INCLUDE:

Kayaks
Rafts
Bikes
Fishing Gear
Snow Boards
Tubes
Snow Shoes
Hiking Gear
Nordic Ski Gear
WE PROVIDE:

Tour Buses
Shuttles
Transfers
Group Logistics
Maps
Guide Services
Destination Support
WE PACKAGE:

Local or Out Bound Adventure Activities
Corporate Events
Family Fun
OUR CLIENTS SAY IT BEST:
Jim,
Just a quick note to say thanks for everything. The group enjoyed both activities. Ryan the river guide and the girls at the ranch were great. (Please let Lee know her staff is great.) The girls back at your office were very nice and had a sandwich break, snacks and drinks waiting for us when we got off the river. (THE PBR WAS COLD AND WAS A NICE SURPRISE.) "You've got a great staff." If back in Reno we will use Sierra Adventures. I'll post a review on yelp, as well.
Thanks again.
Michael W. Jackson,CHA
Good Nite Inn Management,Inc.
Vice President of Operations
Thanks very much, Jim!
Your crew was terrific, the equipment was excellent, and my Team had a fantastic time rafting on the Truckee this weekend. Everyone reported this as one of the best Team Outings we have had. It was well attended and much enjoyed. It was a First Class experience from beginning to end.
Cheers!
Bud
Dear Jim,
Thank you for your help and guidance on our "Sierra Adventure." As you would've known even if we didn't tell you, none of us had skied before, and it was truly an adventure. We couldn't have done it without you. The scenery on the way to Diamond Peak was awesome – nothing like the sights we see in southeastern Ohio. If you're ever in our area, look us up. We'll take you spelunking in the many caves of the Hocking Hills. And if we're ever again in Reno, we'll know who to call for our outdoor adventure!
Thanks again,
Cheryl, Marilyn, Stef, Jeri Ann
Advance Reservations Required!