Sierra Adventures will satisfy your thirst for adventure 365 days a year by offering Summer/Fall (June-November) and Winter/Spring (November-May) activities. For Spring and Summer, kayaks and river toys are available and include everything from beginner sit-on-top kayaks to rafts and river tubes. Full suspension, basic/cruisers and tandem bikes are ready at a moments notice for a cruise along the river walk or the back-country thrill seeker.
River Gear Rentals
Equipment & Gear
Per Hour
Full Day
Hybrid Kayaks
$19
$39
Advanced Play Boat Kayaks
$29
$49
River Tubes
$9
$19
River Rafts
$39
$99
River Sup Boards / Gear
$14
$39
Fishing Gear
$15
$29
Bike Rentals
Equipment & Gear
Per Hour
Full Day
River Cruisers
—
$19
Hybrid Multi-Speed
$14
$34
Road Bikes
$19
$39
Mountain Bikes
$19
$49
Tandem Bikes
$19
$49
Electric Bikes
$19
$49
Snow Gear Rentals
Equipment & Gear
Half Day
Full Day
Snow Shoe Pkg.
$15
$29
Snow Tube Pkg.
$15
$29
Snow Board Pkg.
$15
$29
Miscellaneous
Equipment & Gear
Per Hour
Full Day
Fishing Gear
$15
$29
Misc. Gear
—
$29
Gear Rentals for Burning Man
Before heading out to the playa, stop by Sierra Adventures for bike rentals and other gear. We can also provide you with the latest information and even arrange shuttles to and from the event. Click HERE to pay your deposit and reserve your adventure gear. Sierra Adventures takes care of the details, you have fun!
LESSONS & CLINICS
Kayak

Sierra Adventures is proud to offer kayak lessons and clinics for both river and flat water kayaking. Our Intro is only $79 per person, designed to introduce the basics of safety, gear, paddle strokes and boat styles.
At Level Two, we split the group for either river or flat water lessons, designed to get you to the next level of your ability. Level Two includes wet exits, bracing, wet entry, boat maneuvering, and advanced paddle strokes.
Level Three is final preparation for open water sessions at Reno's Truckee River Whitewater Park. This level includes Eskimo rolls, assisted rescue, open water safety, and equipment fitting.
Level Four is optional for continued roll sessions or open water skills and training.
Levels Two-Four are $79 per person for each level, everything included. The entire four level course is $199 per person. Pool classes are every Tuesday evening from 7:30 – 9:30 pm. Meet fifteen minutes before start time at Sierra Adventures in downtown Reno, at the Silver Legacy Adventure Desk.
Adventure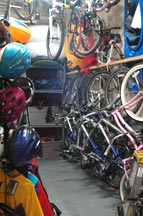 We provide introduction lessons for all water, land, and snow activities for the whole family. Choose from Kayak 101, Bike Safety & Repair, Boogie Board 101, Nordic & Snowshoe Basics, River Guide Basics. Packages include safety gear, maps, and accessories. We feature shuttles to whisk you up river, to trail heads, and to the mountains.
Sierra Adventures has your adventure gear… Clothing, Bikes, Kayaks, Accessories, Tubes, Rafts, Snow Gear, Rentals, Repairs, Lots More.For directions and more information, call Sierra Adventures at 1-775-323-8928 or toll-free at 1-866-323-8928.
Make Reservations
Prices are per person based on the number of guests. Please call Sierra Adventures toll-free at 1-866-323-8928 for pricing information on different size groups.
Advance Reservations Required!
Important – Read This: Your deposit is only a deposit. You are responsible for the remaining balance, due and payable at least 48 hours before your activity is to begin.
One-day adventures require a $50 per person deposit, and two-day adventures require a $100 per person deposit. Fill out the short form, then click the "Pay Deposit" button. You will then choose your adventure, your preferred date, and go to our secure PayPal system to pay your deposit. You don't need a PayPal account to use the system. Questions? Call us at 1-866-323-8928 or e-mail: sierraadventures@att.net.
Packaging & Pricing Info: All activities offered are designed, supported and packaged by Sierra Adventures. Packages include: An experienced personal guide, top rated rental gear, free transportation, snacks and bottled water, free photos, free outfitting with safety equipment. Pricing is subject to variation due to group size, location, fuel costs & holiday periods. See the Sierra Adventures price list for more information.
OUR INSTRUCTORS & POLICIES
ACA certified with 25 years experience. Former US Olympic and UC Irvine coach.
100% refund on cancellations 15 days or more before your trip. No refund on cancellations less than 15 days before trip. Date changes $25 per person.
Advance Reservations Required!
Historical/Leisure and Guided scenic tours abound with choices ranging from Virginia City and Lake Tahoe to a Mark Twain Historic tour. Adventure seekers can even visit the many Ghost Towns located in Northern Nevada. Earth, Wind, and Water tours include horseback expeditions, ATV excursions, rock climbing, hang glide adventures and helitours over Lake Tahoe.
The Winter/Spring options feature snow gear and equipment rental and include snowshoes with ski poles, snow tubes and boards. Guided active day trip choices showcase a selection of great ideas to please just about anyone. Chose from dog sledding, sleigh rides, a snow cat powder adventure, or perhaps a snow shoeing tour high above Lake Tahoe will suit your needs. Snowmobiling adventures and intro to ski/snowboard packages are also available.
Nevada day trips and activity options are endless in this scenic wonderland. A Balloon Flyaway over Lake Tahoe with views of Yosemite can take anyone's breath away, or take the family on a Zoo and Wildlife Discovery tour.