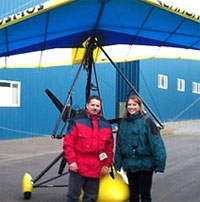 Join Sierra Adventures for a dating experience like no other.
Intro: Put the fun back into dating and never go on a boring date again. Sierra Adventures has just the right outing to impress your date. With a wide range of outdoor activities to choose from, all you need to worry about is what indoor fun you can dream up to complete your dating adventure.
The Tour: Your adventure date begins with a shuttle or limo pickup from any local hotel or restaurant. After a scenic drive, your guide will outfit you and set you on your way with proper instructions and accompanied by an expert teacher who will help both of you learn new techniques in outdoor sports.
The Cost: Pricing is structured by group size, length of activity and type of tour. Packaged price includes planning, equipment, transportation, guide service, food and beverage, and any tickets required. Go to the Sierra Adventures price list for the latest information, then pay a deposit to secure your trip.
Dates and Restrictions: Activities offered by Sierra Adventures are subject to seasonal restrictions, weather cancellations, and your physical limitations. Call our toll free number 1-866-323-8928 – for more information. Remember to include your email and/or fax number so we may provide package updates, blackout dates or specific information related to your adventure.
Advance Reservations Required!
Suggested Clothing and Gear: Gear and clothing appropriate for your chosen adventure date.