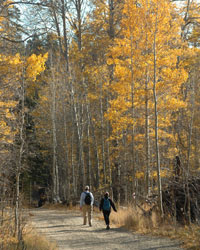 Join Sierra Adventures and trek through glorious mountain landscapes, including the Sierra Nevada, Virginia Range, and other Nevada high desert locales.
Intro: Hike the Sierra Nevada, the Virginia Range, and other Nevada high desert destinations. Absorbing the sounds and smells of the Nevada outback is one of the best things you can do for yourself in this motorized world. While red-tailed hawks soar overhead, jack rabbits, wild horses, mule deer, and coyotes inhabit scenic canyons and rugged mountains. Our expedition shows you the dramatic contrasts between the Sierra Nevada, Reno, and the Virginia Range. Amazing photographic opportunities abound.
The Tour: The day begins with a complimentary pickup at any local hotel. This family expedition, provides a unique chance to see the complexities and contrasts of the region on foot; just you, the fresh air, and your camera. Ski poles are available to help pacing.
The Cost: Pricing is structured by group size, length of activity and type of tour. Packaged price includes planning, equipment, transportation, guide service, food and beverage, and any tickets required. Go to the Sierra Adventures price list for the latest information, then pay a deposit to secure your trip.
Dates and Restrictions: Activities offered by Sierra Adventures are subject to seasonal restrictions, weather cancellations, and your physical limitations. Call our toll free number 1-866-323-8928 – for more information. Remember to include your email and/or fax number so we may provide package updates, blackout dates or specific information related to your adventure.
Advance Reservations Required!
Suggested Clothing and Gear: Loose Clothes / Fishing Vest / Day Pack / Binoculars / Camera / Wool Socks / Hiking Boots / Hat / Sun Glasses.