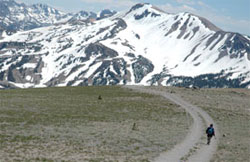 Join Sierra Adventures on an expedition to one of the best and most exciting resort areas in the world.
Intro: Your first glimpse of Mammoth Mountain will help you understand why the Sierra is called The Range of Light, and why Ansel Adams loved these mountains and did some of his finest photographic work here. From Mammoth's summit you can gaze across Yosemite and the Ansel Adams Wilderness, then turn east to see the towering White Mountains across Long Valley and the Owens River. Mammoth Mountain is a world-class resort known for its long ski season, summer mountain biking, and breathtaking scenery, adding up to 365 days of fun. Available activities include biking, camping, fishing, hiking, horseback riding, golf, rock climbing, mountaineering, snowmobiling, showshoeing, and the sport that started it all, downhill skiing. The sky really is the limit at Mammoth.
The Tour: At Sierra Adventures, we consider Mammoth one of the premier destination resorts in the world. From Reno, we provide a complete year-round destination support service to Mammoth Mountain and Mammoth Lakes. We support any size group with necessary information, transportation, lodging, rental, and guide service through all four seasons.
The Cost: Pricing is structured by group size, length of activity and type of tour. Packaged price includes planning, equipment, transportation, guide service, food and beverage, and any tickets required. Go to the Sierra Adventures price list for the latest information, then pay a deposit to secure your trip.
Dates and Restrictions: Activities offered by Sierra Adventures are subject to seasonal restrictions, weather cancellations, and your physical limitations. Call our toll free number 1-866-323-8928 – for more information. Remember to include your email and/or fax number so we may provide package updates, blackout dates or specific information related to your adventure.
Advance Reservations Required!
Suggested Clothing and Gear: Layered clothing / Binoculars / Ski/Swim/Hiking/Bike Gear / Sun Block / Sun Glasses.