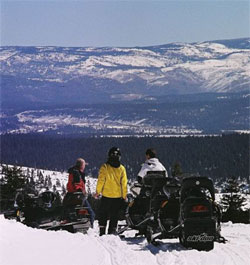 Join Sierra Adventures on a snowmobiling adventure like no other, effortlessly gliding through the high Sierra winter wonderland on your own snowmobile.
Intro: Snowmobiling provides the opportunity to explore various trails of the Sierra, as well as taking you to spectacular views of beautiful Lake Tahoe and the surrounding high mountains. We know where the best ride is for your particular taste. We can take you on wide open, point-to-point runs or on slow moving scenic rides with world-class views.
The Tour: Your snow adventure begins with a pickup at any local hotel. We will help your group with any rental needs, then shuttle you to the starting point of your snowmobile adventure. Snowmobiling can be combined with other snow-filled adventures through advanced booking.
The Cost: Pricing is structured by group size, length of activity and type of tour. Packaged price includes planning, equipment, transportation, guide service, food and beverage, and any tickets required. Go to the Sierra Adventures price list for the latest information, then pay a deposit to secure your trip.
Dates and Restrictions: Activities offered by Sierra Adventures are subject to seasonal restrictions, weather cancellations, and your physical limitations. Call our toll free number 1-866-323-8928 – for more information. Remember to include your email and/or fax number so we may provide package updates, blackout dates or specific information related to your adventure.
Advance Reservations Required!
Suggested Clothing and Gear: Sub-Zero Winter Gear-No Cotton! / Wool Hat / Gloves / Shell Parka / Goggles / Gaiters / Water Proof Boots / Thermax-Gortex Underwear / Dry Towel / Change of Clothes.
Snowmobiling in Truckee: