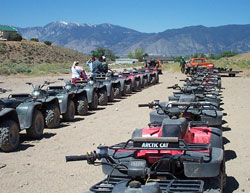 Join Sierra Adventures on an ATV or dune buggy tour to see wild Nevada and have tons of fun in the process.
Intro: Here is your best bet to see, smell and wear the high desert of Nevada or the beautiful pine forests of Lake Tahoe. You will ride on the back of a state of the art all-terrain quad or in an all-terrain buggy. This is an exciting, exhilarating adventure you will always remember; feeling the wind in your face, the aroma of sage and pine, all surrounded by the snowcapped Sierra.
The Tour: Your fun begins with a complimentary shuttle pick up at any Reno location. We whisk you over the Sierra to your orientation and off you go. During stops for views and photos, your guide will answer questions about Lake Tahoe and the Sierra. This is a kick in the pants adventure available for the whole family. We offer several tour options at two distinctly different and unique areas. Winter tours are available with some limitations.
The Cost: Pricing is structured by group size, length of activity and type of tour. Packaged price includes planning, equipment, transportation, guide service, food and beverage, and any tickets required. Go to the Sierra Adventures price list for the latest information, then pay a deposit to secure your trip.
Dates and Restrictions: Activities offered by Sierra Adventures are subject to seasonal restrictions, weather cancellations, and your physical limitations. Call our toll free number 1-866-323-8928 – for more information. Remember to include your email and/or fax number so we may provide package updates, blackout dates or specific information related to your adventure.
Advance Reservations Required!
Suggested Clothing and Gear: Desert Gear / Wool Hat / Gloves / Parka / Sun Glasses / High Top Boots / Ski Goggles / Driver's License.
ATV Tour in Sierra Valley
ATV Tour in Sierra Valley from Xola on Vimeo.