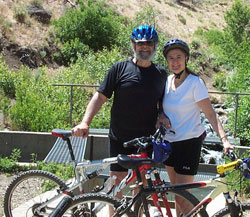 Join Sierra Adventures on this bike tour and discover some of the treasures in the Reno / Lake Tahoe area.
Intro: Interested in discovering bike rides that are hidden local treasures? Ride with us and you can discover all the Reno / Tahoe area has to offer. View kayakers and rafters as they float past you on the Truckee River. Explore by bike and let us show you the beautiful places and views that only the locals know about.
The Tour: Your discovery bike tour begins with a complimentary pickup, or just meet at our adventure shop. Bikes and helmets are set up and adjusted to your needs. We will provide water, power bars, and fruit en route to your destination. Your knowledgeable biking guide will lead you through winding back roads, river trails adjacent to scenic parks, and quiet neighborhoods. Our bike rides are designed to stay within your abilities and endurance level while providing a memorable experience.
The Cost: Pricing is structured by group size, length of activity and type of tour. Packaged price includes planning, equipment, transportation, guide service, food and beverage, and any tickets required. Go to the Sierra Adventures price list for the latest information, then pay a deposit to secure your trip.
Dates and Restrictions: Activities offered by Sierra Adventures are subject to seasonal restrictions, weather cancellations, and your physical limitations. Call our toll free number – 1-866-323-8928 – for more information. Remember to include your email and/or fax number so we may provide package updates, blackout dates or specific information related to your adventure.
Advance Reservations Required!
Suggested Clothing and Gear: Bike Clothing / Shoes & Peddles / Change of Clothes / Camera / First Aid Kit / Two Way Radio / Whistle.