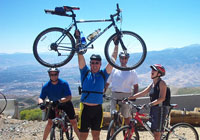 Join Sierra Adventures on Reno's own Peavine Peak, a challenging mountain biking area right in the neighborhood.
Intro: The hum of your bike tires grind to a skidding halt as you scan the winding, rolling miles of unique trails. Mountain canyons and streams cascade downward next to you, as the crisp morning air roars through your helmet. Clobbering sagebrush as you glide down the bike trail, the sounds and smells of the Nevada wilderness surround you. A red tailed hawk soars overhead as jack rabbits, wild horses, and deer bound across the road, seeking cover from the stampede of bikes. Exhilaration fills your veins as you wind and spin on biking single track and jeep roads like a roller coaster down to base camp on the Truckee River.
The Tour: Your Peavine adventure begins with a complimentary pickup at any local hotel. Bikes and helmets are adjusted to your needs. We will provide a continental breakfast, water, power bars, and fruit en route to your destination. Peavine Summit is 8,300 feet above sea level. Your knowledgeable bike guide will lead the group through winding single track and mixed terrain with over 4,000 feet of vertical. Or, ride it yourself with our maps and phone support. Add on river rafting for a super adventure.
The Cost: Pricing is structured by group size, length of activity and type of tour. Packaged price includes planning, equipment, transportation, guide service, food and beverage, and any tickets required. Go to the Sierra Adventures price list for the latest information, then pay a deposit to secure your trip.
Dates and Restrictions: Activities offered by Sierra Adventures are subject to seasonal restrictions, weather cancellations, and your physical limitations. Call our toll free number – 1-866-323-8928 – for more information. Remember to include your email and/or fax number so we may provide package updates, blackout dates or specific information related to your adventure.
Advance Reservations Required!
Suggested Clothing and Gear: Bike Clothing / Shoes and Pedals / Change of Clothes / Camera / First Aid Kit / Two-Way Radio / Whistle / Repair Kit.