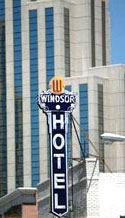 Join Sierra Adventures for a sporting exercise that will help you have fun and learn more about why Reno/Lake Tahoe is America's Adventure Place.
Intro: A new unique way to build teamwork, communication skills and camaraderie just minutes from your hotel room. This is a fun and exciting adventure sport that we promise will be a once in a lifetime experience you will want to share with all your friends. We can customize your treasure hunt for large corporate groups or small parties just looking for fun and adventure close by.
The Tour: Our urban adventures are a combination of treasure hunting, problem solving and orientation exercises that are rich in historical information. This type of experience will forge new friendships, create great memories, and give a whole new prospective on the area.
The Cost: Pricing is structured by group size, length of activity and type of tour. Packaged price includes planning, equipment, transportation, guide service, food and beverage, and any tickets required. Go to the Sierra Adventures price list for the latest information, then pay a deposit to secure your trip.
Dates and Restrictions: Activities offered by Sierra Adventures are subject to seasonal restrictions, weather cancellations, and your physical limitations. Call our toll free number 1-866-323-8928 – for more information. Remember to include your email and/or fax number so we may provide package updates, blackout dates or specific information related to your adventure.
Advance Reservations Required!
Suggested Clothing and Gear: Loose Fitting Clothes / Wind Breaker / Jogging Shoes / Binoculars.