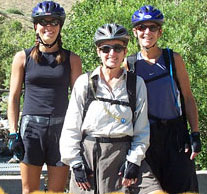 Join Sierra Adventures for a girls-only expedition that can include just about any activity we offer.
Intro: O.K. girls, take your pick off our tour options list – bike, balloon, kayak, boogie board, hang glide, horseback, hike, raft, rock climb, snowshoe, or glide with the eagles. Did we miss anything?
The Tour: At the designated time, our complimentary shuttle will pick you up from any local hotel or bed and breakfast. Each tour includes your guide, food and beverage and transportation. Your guide can set you up with equipment needs for any adventure. A variety of paces are available.
The Cost: Pricing is structured by group size, length of activity and type of tour. Packaged price includes planning, equipment, transportation, guide service, food and beverage, and any tickets required. Go to the Sierra Adventures price list for the latest information, then pay a deposit to secure your trip.
Dates and Restrictions: Activities offered by Sierra Adventures are subject to seasonal restrictions, weather cancellations, and your physical limitations. Call our toll free number 1-866-323-8928 – for more information. Remember to include your email and/or fax number so we may provide package updates, blackout dates or specific information related to your adventure.
Advance Reservations Required!
Suggested Clothing and Gear: Gear and clothing needed based on your activity choice.